New & used iMac deals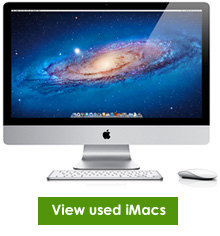 Introduced back in 1998, the iMac is one of Apple's longest running, and most successful desktop lines to date. Over the years its all-in-one form factor has evolved through a number of iconic designs, with the current, and arguably best looking featuring anodized aluminum and glass.
Starting at £1,099.00, the iMac isn't the cheapest Mac available, but for many it offers the best overall value for money. The all-in-one design means you don't need to invest in an external display (choose between 21 or 27-inch models), and in terms of performance it's only beaten by Apple's Mac Pro line, which starts at around £2000 and doesn't include a display!
Although traditionally considered to be a consumer desktop, the gap between the iMac and Apple's pro systems has actually narrowed considerably in recent years, making it a popular choice for both home users and professionals. The current generation all include quad-core Intel Core i5 processors as standard, though Apple does also offer an Intel Core i7 as a configurable option. 8GB of RAM is supplied as standard, though the 21-inch can be configured with a maximum of 16GB, and the 27-inch 32GB. One important thing to note is that RAM in the latest 21-inch model is not user replaceable.
If you can't decide whether an iMac is right for you, maybe consider a MacBook Pro if you need to travel with your computer, or a Mac Mini if you want to spend less and already have accessories, such as a monitor, you want to keep and use.
New iMac deals
Besides buying a new iMac directly from Apple, you can also find them at UK retailers such as Currys, Misco and Amazon. Some smaller independent retailers also sell them via eBay and the Amazon marketplace, though the models on offer might not be the very latest.
Used iMacs for sale
If your budget can't quite stretch to a brand new iMac, then buying second hand is another option. The best place to buy used Macs is eBay, where, providing you read the item descriptions carefully and avoid sellers with negative feedback, you can pick up some fantastic bargains. This is especially true If you don't need the latest and greatest model. The only downside to an buying older, used iMac is that it might not be covered by warranty should something go wrong.