New & used Mac mini deals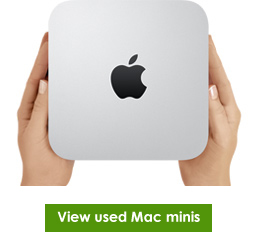 If you're looking for a small, sleek desktop computer, Apple has you covered with the Mac Mini. It's ideal for anybody looking to move from a PC or an older Mac, but already have a monitor, keyboard and a mouse lying around. Starting at £529, it's also the cheapest Mac that Apple currently offers.
The most notable feature of the Mac Mini is it's tiny form factor – it measures just 19.7cm square, and 3.6cm thick. Despite the size, you should find its dual-core Intel Core i5 can easily cope with most tasks.
It also sports a good selection of ports, including: Gigabyte Ethernet, Thunderbolt, USB 2.0, and unusually for a Mac, HDMI which allows you to hook the mini up to an HD TV and enjoy all the benefits of Mac OS X on a huge display.
While the latest Mac Mini has pretty good specifications, you do have very little room for expansion, it can't quite compete with Apple's other portable and desktop Macs in terms of performance. The latest models also lack a built-in disc drive, making them somewhat limited as a media center device – despite the HDMI capabilities.
You can still find older second hand Mac Minis with built-in optical drives on eBay, and you can of course add an external one. Otherwise, you might find that the iMac offers better value for your money – especially if you need to add a display, optical drive, keyboard & mouse to the final price.
New Mac mini deals
You can find new Mac minis for sale at Amazon, Comet, Misco and, of course the Apple Store. Smaller independent retailers also sell them via the Amazon marketplace and eBay, though the models on offer might not be the latest generation.
Used Mac minis for sale
If you want a Mac mini but your funds are limited, then buying used is another option. eBay is the best place to find second hand Mac minis, and providing you only buy from sellers with good feedback and pay close attention to the item description, you can find some fantastic deals. You might even decide that one of the older models, which have built-in optical drives, meet your needs better than the latest versions. Whichever model you decide to go for, set yourself a budget and stick to it. Even if you miss out on the first few auctions, there's bound to be plenty more used Mac minis to bid on.