Was this photo taken with the iPhone 5?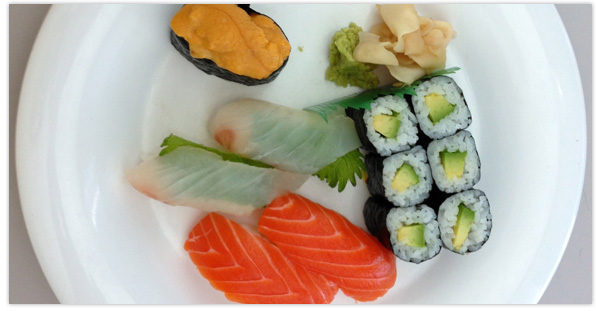 This rather unsuspecting image of some sushi (uncropped version here) could be the first photograph released into the public that was taken with the iPhone 5. Its accompanying EXIF data claims it was taken with an iPhone 4, but if you dig a little deeper, that's clearly not the case.
Despite claiming that the photo was taken with an iPhone 4, the EXIF data also claims that an 8-megapixel camera was used. Now, last time I looked the iPhone 4 had only a 5-megapixel camera. In addition to those extra megapixels, the camera used was simply much better than that in the current iPhone.
PocketNow explains:
This (very attractive) photo claims to have been taken by an iPhone 4, but the rest of its EXIF data tells a different story: although the image has been cropped to 2235×2291 (5.12 megapixels), the original picture was a much larger 3264×2448 — or just shy of eight megapixels. What's more, the lens was recorded as a 4.3mm f/2.4, which is closer to that of a point-and-shoot than the iPhone 4′s actual 3.85mm f/2.8.
Of course, it's very likely that this image was taken with a device that largely resembles the iPhone 4, but with iPhone 5 internals. Apple has been known to pack next-generation components into current-generation bodies in order to test its prototypes without drawing unwanted attention to a new device.
Though rumors surrounding the fifth-generation iPhone have long been hugely conflicting, claiming one week that it will look completely different, and the next that it will look exactly like the iPhone 4, two particular features had remained consistent throughout: Apple's A5 chip and an 8-megapixel camera.
One report also revealed that the Cupertino company has already selected two suppliers to provide 8-megapixel lenses for the upcoming device. These reports and rumors, backed up by this photograph, are a very strong indication that we'll get a much better camera in our next iPhone. We still don't know what it'll look like, but it'll have a better camera.
Update: Mac Rumors discovered the original image was posted on Flickr by an Apple software engineer working on Safari and WebKit for iOS, though it has since been removed.
[Via Cult of Mac]