Should I buy a refurbished Mac from Apple?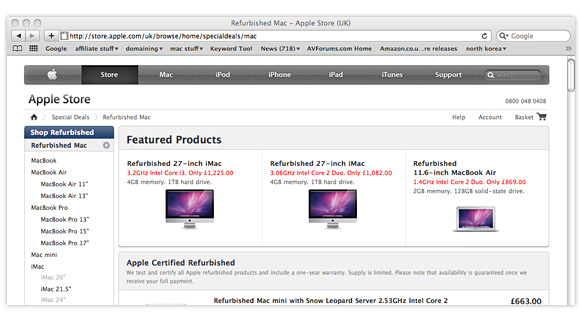 Having bought two refurbished Macs myself – a MacBook Pro, and more recently an 11″ MacBook Air I would absolutely recommend anyone in the market for a new Mac to consider it. In both cases the Macs were in perfect condition, no scratches or dents, and my main concern – no dead or stuck pixels. I've also read many forum posts from other people who have had the same positive experience.
So what's the best thing about buying a refurb? It's a great way to save some money. For example, as I write this post there's an 11″ MacBook Air priced at £734.00 – a saving of £133. The only difference you will find (apart from the price) is that refurbished Macs ship in different, plainer boxes. You still get all the cables, discs and even the obligatory stickers.
Stock can vary on a daily basis and it isn't available 24hrs a day but you should find most models represented along with other Apple products including iPods, iPads, Apple TVs and accessories. There is no way of knowing exactly why a Mac is in the refurbished section, it could have had a minor fault that has been fixed or it might just be that a customer decided to return it.
All refurbished Macs are fully tested & certified and come with a one year warranty, so even if the worst does happen you shouldn't have any problems returning it. You even have the option to extend the warranty on your refurbished Mac up to three years by purchasing an AppleCare Protection Plan, though obviously that will add to the price.
You do need to use a little caution though, and the reason I say that is that you can sometimes find older models that don't always offer the same savings opportunity. There's a good example available right now, for the same price of £949 you can either buy a 2010 13″ MacBook Air or the 2009 version that has the older design. Why would anyone want a 2009 model when they can have the newer, better design for exactly the same price? So before you buy make a note of the "Originally released" date info provided, and ideally stick with models from the current lineup.
If you fancy having a look at the current offerings: UK readers can follow this link, and US readers can follow this link.
Have you bought a refurbished Mac? If so, it would be great to hear about your experience, postive or negative.