Is this a real iPhone 5 caught on video for the first time?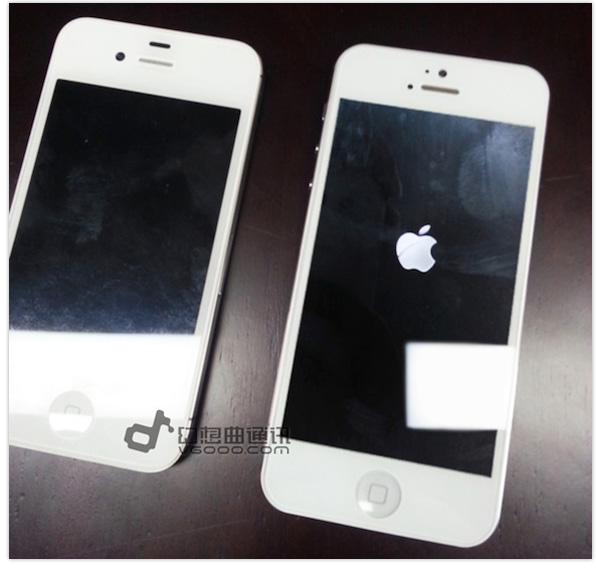 As we've approached Apple's iPhone 5 announcement on the 12th of September, we've seen a number of videos that show mockups and models of the device's alleged new form factor, and how that compares to the design of its predecessors. But a new video that has surfaced today is believed to feature the real iPhone 5 – booting up on camera for the first time.
Obtained by Chinese blog M.I.C. Gadget, the clip is just over one minute long, and it shows a purported iPhone 5 booting up against an iPhone 4S. According to M.I.C. Gadget, the device was "accidentally" discovered in Foxconn's Jincheng factory.
Admittedly, the video looks questionable at first. The alleged iPhone 5 within it doesn't quite look right; its home button, for example, looks a lot larger than that of the iPhone 4S alongside it. And for some strange reason, the Apple logo and text on the back of the device is covered up.
But around halfway through, the device is booted up, and then it suddenly seems real. We see the Apple logo and the very brief iOS startup animation, and we're taken to the activation screen. Of course, because the iPhone 5 isn't out yet, the device cannot be activated.
The video doesn't give much away, other than the fact the iPhone 5 – or alleged iPhone 5 – boots up faster than the iPhone 4S. But this is a great idea of what that bigger screen looks like up against an old iPhone. It's supposed to be taller, not wider, than previous iPhone displays. But to me, it does look wider in this video, and the bezels either side of the display look narrower.
There's no proof this video is real just yet, but it looks pretty convincing to me. What do you think?
[Via: MacRumors]