Check out Apple's awesome new retail store in Hong Kong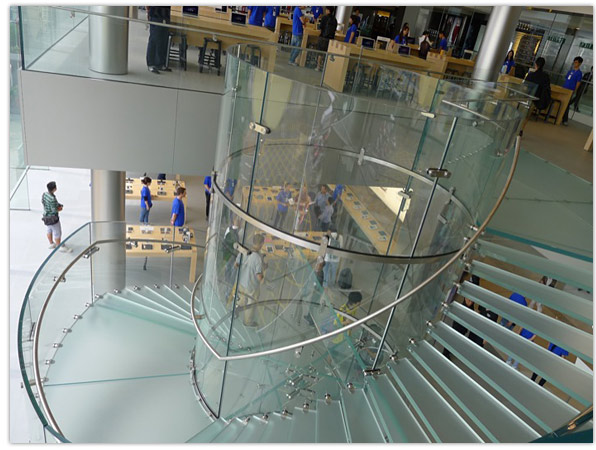 This photo shows Apple's stunning new flagship retail store in Hong Kong's IFC Center. The store is set to open this Saturday, 24th September, but the Cupertino company has taken the curtains off early.
Hong Kong site Neonpunch were amongst the first to take a tour of the new store:
The store will be manned by over 300 staff who include retail assistants, Genius Bar technicians, and creative staff like film makers and musicians, who will be teaching Mac users how to use applications like Final Cut Pro and Garageband.
As you would expect, the design for the new store is tremendous. Neonpunch describes it as a testament to the creativity at Apple's retail division:
"The 2 floor store at the IFC Mall in Central are a testament to the creativity at Apple's retail division – while Tim Cook, Jonny Ive and Steve Jobs devise the newest products – the masterminds behind the retail experience – and we do mean experience – have finally brought their amazing store to Hong Kong after the super-successful launches in the Mainland."
The store consists of two floors: the ground floor is filled with iPhones, iPods, iPads and Macs that customers can come and play around with; and the second is home to the Genius Bar. The floors are separated by a twisted glass staircase, which has become a trademark of popular Apple retail locations.
Here are some interesting facts about the new store, courtesy of Neonpunch:
The majority of the staff are local Hong Kong people and almost all the staff are trilingual: English, Cantonese and Mandarin.
The floating Genius Bar is the largest in Asia – this means that all geniuses have iPad's [sic] and can move anywhere inside the store.
All Mac's [sic] will be fixed on site within 24 Hours!
The One on One plan is HK$768 a year and allows you unlimited access to in-store classes on iWorks and iLife software like Keynote, iPhoto, iMovie and more.
You can book Genius Bar appointments online right now. We booked for Monday to see if we can stump them!
Just like your local Apple store, this one also boasts iPad displays next to each product – allowing you to find out more about device. It doesn't, however, boast the SmartPay system that Apple uses in the U.S., which allows Apple retail staff to take credit card payments using iPod touches. Instead, the new Hong Kong store has good old-fashioned credit card terminals on many of the desks.
If you're in Hong Kong this Saturday, get down to Apple's new store for 9 AM and see if you can be one of the first 3,000 people to get a free Apple t-shirt. If you're not, just admire these photographs of the new retail store.
[Via MacRumors]