Apple releases iOS 5 for iPad, iPhone & iPod touch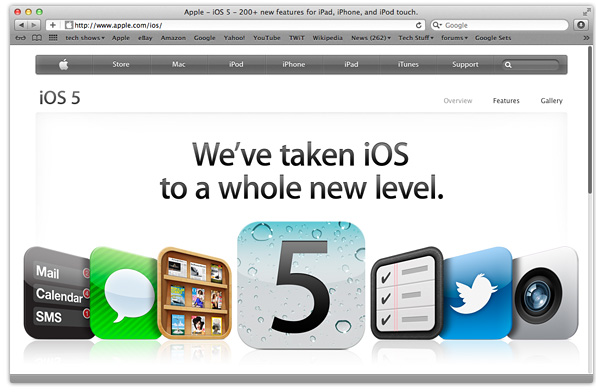 Since its initial unveiling at WWDC back in June, we've all been eagerly anticipating Apple's iOS 5 firmware for the iPad, iPhone, and iPod touch. We've had months of developer testing, 8 beta releases, and a Gold Master, but today, iOS 5 is finally available to the public via iTunes.
To download the latest firmware, all you need to do is plug your device into iTunes on your Mac or PC and click the 'Check for Updates' button on the Summary page. The firmware will then begin downloading and automatically install on your device.
iOS 5 includes over 200 new features altogether, including Twitter integration, Notification Center, a new Reminders application, Newsstand, iMessage, iTunes Wi-Fi Sync, and lots, lots more.
In order to download and install iOS 5, you will need the latest version of iTunes (10.5), which was released by Apple yesterday. You can find this via Software Update on your Mac, or by visiting the iTunes page on Apple's website.
It's worth noting that thanks to the initial rush of eager updaters, you may find that iOS 5 doesn't appear to be available on your first attempt, or it may be slow to download. You'll have to be patient with it for the first few hours, but things should speed up again later on this evening.
Have you installed iOS 5 yet? What's your favorite new feature?