Apple asks record labels to prepare for iTunes 11's imminent launch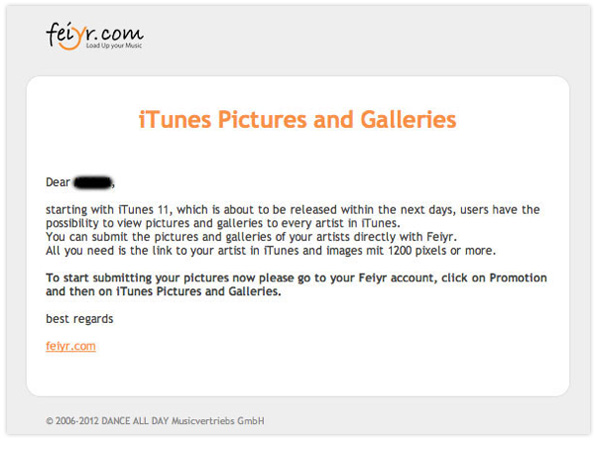 When Apple announced iTunes 11 during its iPhone 5 event back in September, the company promised it would arrive by the end of October. However, October came and went, and the launch was delayed until November. Now the Cupertino company is telling record labels to prepare their artwork for its imminent launch.
According to a post on the MacRumors forum, Apple has been asking record labels to submit pictures and galleries of their artists for iTunes 11's new music store layout. An email went to German music distribution company Faiyr, which passed the information on to its own artists in a message that read:
Dear XXXXX,

Starting with iTunes 11, which is about to be released within the next days, users have the possibility to view pictures and galleries to every artist in iTunes.
You can submit the pictures and galleries of your artists directly with Feiyr.
All you need is the link to your artist in iTunes and images mit [sic] 1200 pixels or more.

To start submitting your pictures now please go to your Feiyr account, click on Promotion and then on iTunes Pictures and Galleries.

best regards

feiyr.com
The most interesting part of that message, of course, is that is says iTunes 11 will be released "within the next days." It's unlikely the update will be released today, what with it being Thanksgiving in the United States, but there's every possibility it could come on Friday, November 23.
We'll be keeping an eye on the Mac App Store's update section, and we'll let you know when iTunes 11 finally drops.
[Via: MacRumors]