Adobe release Photoshop Touch for iPad 2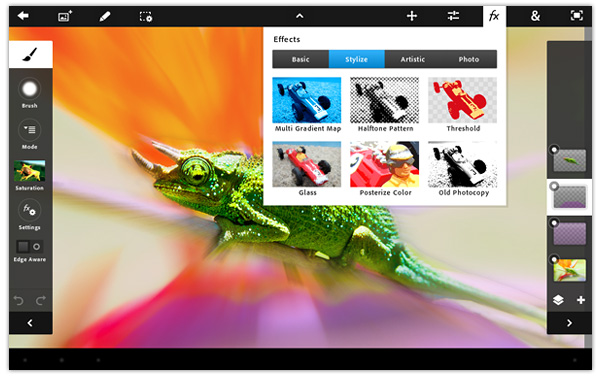 On the first day of the 2012 Mobile World Congress trade show in Barcelona, Adobe has announced the availability of Photoshop Touch – a new photo editing app for the iPad 2. Priced at £6.99 ($9.99), Photoshop Touch brings core features from the company's industry-standard desktop software, including: selection tools, adjustments and filters, to Apple's second-generation tablet.
From the App Store description:
Use your iPad camera to fill an area on a layer with the unique camera fill feature.
Select part of an image to extract by scribbling with the Scribble Selection tool. With Refine Edge, use your fingertip to capture even hard-to-select image elements, like hair, with ease.
Search and acquire images with the integrated Google Image Search.
Share images on Facebook and view comments right within the app.
Browse an inspirational gallery for the styles and results you'd like to achieve. Then follow step-by-step tutorials to easily learn techniques the pros use for great-looking results.
Use AirPrint for wireless printing of Photoshop Touch projects.
Upload projects to Adobe Creative Cloud* and open layered files from Adobe Photoshop Touch in Photoshop CS5.
For more information about Photoshp Touch visit Adobe's website.