iPod nano (7th Gen)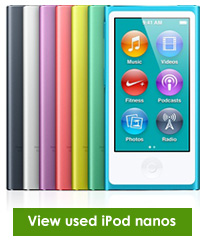 Since its introduction in 2005, the iPod nano has been revised several times, and September 2012 saw the launch of the seventh-generation model. Is the new nano a case of evolution, or revolution?
Apple's completely redesigned iPod nano is their thinnest iPod to date at just 5.4mm. With an anodised aluminium design, it features an easy to use Multi-Touch 2.5 inch display, twice the size of its predecessor, and with a 240 x 432 pixel resolution, it makes the iPod nano's user experience better and easier than ever. It's not just this larger display that makes operating the new iPod nano easier though, as it features more physical buttons for playing, pausing, volume control and a 'Home' button.
Despite its credit card size, the new iPod nano is packed full of features. As well as music, video, photos and podcasts, the nano also features an FM radio, Bluetooth (whether for speakers, headphones or car audio), a pedometer and Nike + for those fitness fanatics out there. There are also several accessibility features to help disabled users enjoy the iPod nano experience.
Battery life is an improvement, with up to 30 hours music or 3.5 hours of video on a single full charge, and Apple's new EarPods that come complete with the device feature better audio quality than the earphones that were bundled with previous generations.
Unlike its predecessor, the 7th Gen nano doesn't include a clip to attach it to sportswear, nor can it be worn as a watch. An extra £40 gets you a fourth-generation iPod touch with the same amount of storage, a bigger screen, and overall is a more capable device. Don't dismiss the sixth generation Nano either, which can be worn as a watch and has many of the same features.
The new iPod nano doesn't represent a revolution from its predecessors, but it has evolved very nicely from previous generations. Available in seven colours, slate, sliver, purple, green, blue, yellow and red, and priced at £129.00, the new iPod nano is a welcome addition to the Apple Family, and arguably the best dedicated portable music player on the market.
New iPod nano deals
Besides buying a 7th generation iPod nano directly from Apple, you can also find it at retailers such as Comet, Misco and Amazon. Some of the smaller independent retailers also sell it via eBay and the Amazon marketplace.
Used iPod nano for sale