Apple iPhone 4S deals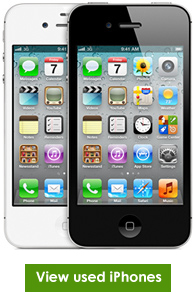 Same great external design as the iPhone 4, but improved in most ways under the surface, the iPhone 4S is the current best offering of smartphones from Apple. You can get it in black or white, just like with the iPhone 4 before it.
Let Siri help you through your day by reading you an e-mail, dictating a message to someone or add things to your calendar. Still getting better all the time, Siri will keep improving over time and enable you to do even more things with just your voice.
Need access to your data elsewhere at high speed? The iPhone 4S has an improved antenna system and is capable of using even more frequencies of the mobile networks, making it even faster for you to get your stuff while out and about. Great for surfing the web in the park or reading your e-mails on the way to work.
With an iPhone 4S in your pocket, a high quality camera for either still photography or video is never far away. With photo quality rivaling that of many point and shoot cameras, you can capture almost any moment in detail. Since you can choose between a 16GB, 32GB or 64GB storage, you will have plenty of space to store your masterpieces too.
There are also a myriad of different apps available in the App Store, enabling to your edit together a stunning movie in no-time, or make that photo look even better. With all the 500,000 apps available, you are sure to find one that does what you want.
The iPhone 4S might not be the best choice for everyone. Siri and full-HD video capture could be of no interest and the basic external design is virtually unchanged from the iPhone 4. Price is definitely another thing to consider, and with a starting price of £499, it is just not for everyone.
Alternatives to the 4S include the iPhone 4, and the iPhone 3GS.
New iPhone 4S deals
Used iPhone 4S for sale