Apple iPhone 4 deals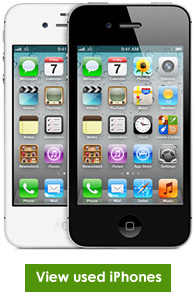 The iPhone 4, introduced in 2010, is still available for purchase in a 8GB model. Beyond the smaller storage space inside, it is still the same very capable device with a quite powerful processor. It is still available in both black and white.
Capture video in 720p or take great looking photos in 5 Megapixels and instantly share them with the whole world, or just some friends. The capabilities of the device and its software enable you to do nearly anything you please, anywhere.
With a brilliant Retina display the iPhone 4 makes your photos look great and videos have a lovely sharp and crisp picture. If you want to read, the display makes it even more enjoyable with text that borders on printed words in a book in terms of clarity and exactness.
Solid and sturdy design all way around and excellent features in the software make the iPhone 4 a brilliant package of modern communication and accessibility. With the dual cameras you can both video conference with people and show them what you see, and have access to a vast array of apps via the App Store.
The iPhone 4 does lack the higher data transfer speeds of the iPhone 4S and it does also not have the virtual assistant Siri. The iPhone 4 is now only available in a single 8GB configuration, which might not be enough for some people and some situations.
You might be able to find used devices on eBay with more storage than the currently offered iPhone 4, making them good value for your money.
If you want to get away cheaper, you can look at the iPhone 3GS and if you want a little more, take a look at the iPhone 4S.
New iPhone 4 deals
Used iPhone 4 for sale