Apple iPad 3rd generation deals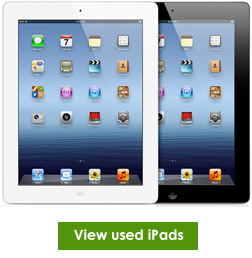 The new iPad is Apple's refinement and improvement upon the basic concepts that they introduced in the original iPad in 2010, and polished even more in the iPad 2 of 2011. Starting at £399 it's a very affordable and very portable computer.
The real jewel of the new iPad is its screen, the Retina display. With a higher resolution than a full-HD TV, you get a crisp, clear picture unlike any you've seen before. Videos and photos will look amazing. And it still has an amazing 10 hour battery life. The new iPad also sports a great camera on the back for taking 5 megapixel still photos or full-HD videos, ready at an instants notice.
But you can't do much without great software. Luckily, the iPad has just that! Over 200,000 apps available and specifically built to work their best on the iPad. You will find all the apps you need for work, and quite a few for play. Gaming is one thing the iPad does excellently, with impressive graphics, and innovative play, bound to make you say "wow" over and over.
The new iPad is available with 16GB, 32GB or 64GB storage. Given the new Retina display, it would be wise to go for one of the higher capacity storage models. With the increased resolution, apps, books and movies will take more storage space as they take advantage of the vastly improved screen.
Choose between a WiFi only version or an iPad with both WiFi and 4G connectivity built in. With the 4G model, you have high-speed access to the whole world almost wherever you go. And if you bring your iPad on your travels, it will work nearly anywhere, just get a prepaid SIM with data access from a local carrier.
The previous generation iPad 2 is still available and it is cheaper, but you will have to make do with a screen that is not as good and a camera that is not up to par with the one in the new iPad. You can also not get more storage that 16GB, but you can get it in either WiFi or WiFI and 3G version.
The iPad might not be for everyone in every possible situation. The lack of a physical keyboard can make it difficult to enter large amounts of text, although you can connect Apple's wireless keyboard to make typing easier.
If you really need a compact computer with both a physical keyboard and everything Mac OS X or Windows has to offer, the MacBook Air would be a good choice.
New iPad deals
Used iPads for sale